Luxury Galapagos and the Amazon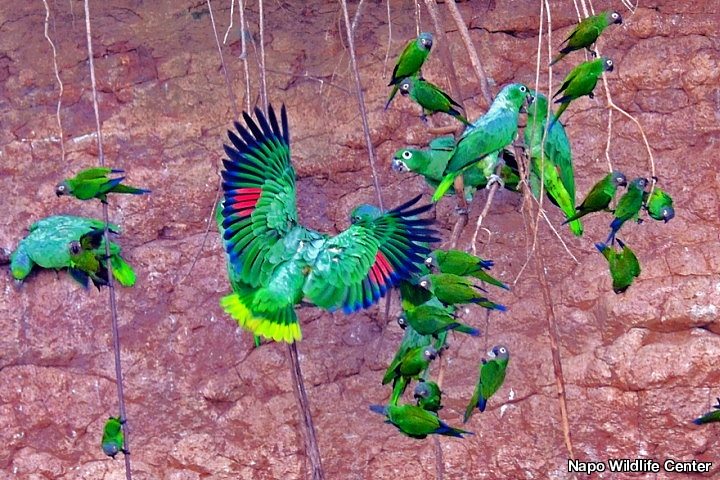 (Dbl. Occupancy, Not Incl. Airfare)
Overview
Embark on this journey to explore the Galapagos Islands and Ecuador's Amazon Basin.  The tour begins with a city tour of Quito and excursion to the Middle of the World Monument.  You then embark on a five day cruise aboard the luxurious La Pinta, to observe giant tortoises, land iguanas, and other fascinating wildlife.  The last part of the trip takes you to Napo Wildlife Center, the only lodge located within Yasuni National Park, where highlights include a parrot clay lick, canopy tower, and native community visit.
Lodging and Meals: This tour includes accommodations for 11 nights (4 nights in Quito, 4 nights aboard the La Pinta, and 3 nights at Napo Wildlife Center), and 25 meals (11 breakfasts, 7 lunches, and 7 dinners).
Best Time to Go: Year-Round.
Destinations: South America, Ecuador, Galapagos, and the Amazon.
Interests: Adventure, All-Inclusive Properties, Culture & History, Expedition Cruising, Luxury, Sea Kayaking, Snorkeling, and Wildlife Viewing.
Places Visited: Quito, the Ecuadorian Amazon, the Galapagos Islands, Baltra Island, Española Island, San Cristóbal Island, Santa Cruz Island, Santa Fe Island, and South Plaza Island.
Day-by-Day Itinerary
Note: The route and program may vary according to National Park policies and regulations, weather conditions, seasonal changes, safety reasons and wildlife encounters.
Dry Landing: Guests step from the dinghy directly onto rocks or a dock.
Wet Landing: As the dinghy edges onto a sandy beach, guests step into knee-deep water and wade ashore.
Day 1 (Tue): Quito.
Depart to Quito. After passing through immigration and customs, proceed to the reception area, where our representative will be holding a sign with your name on it. You will be greeted and then transferred to your hotel. Overnight in Quito.
Day 2 (Wed): City Tour of Quito-Equatorial Monument.
This morning, you will visit to downtown Quito to relish in this urban jewel and its treasures of art and architecture. Quito's colonial quarter, the largest and best preserved of South America, is a UNESCO World Heritage Site. The stroll starts at the Independence Plaza, flanked by the Cathedral, the Presidential Palace, the Municipal Building and the Archbishop's Palace. Visit the temple of La Compañía de Jesús and its awesome gilded interior. Continue on to the Monastery of San Francisco, one the of great religious buildings of the New World; its impressive façade and atrium that lead to its Baroque interior influenced by Moorish style, with the winged Virgin of Quito at its main altar.
Then continue to the Equatorial Monument, 16 miles north of Quito, which marks the exact Middle of the World, latitude 0º, where you can stand with a foot on each hemisphere. Visit the Ethnographic Museum inside the monument, which shows the different Native American groups living in Ecuador. Beside the monument there is a colonial-style town, complete with main square, church, post office, bullring, cafeterias, restaurants and many gift shops with postcards and souvenirs. You will get a certificate for having crossed the Equator. Overnight in Quito. (B)
Day 3 (Thu): Quito-Baltra Airport-South Plaza.
Early morning transfer to the airport for the flight to Galapagos.  Upon arrival in Baltra Island, you will be transferred to the La Pinta.  There's a welcome introductory briefing, boat drill, cabin assignment and then lunch.  You weigh anchor and start sailing for your first afternoon outing.
South Plaza Island.  The turquoise waters of the channel here contrast brilliantly with the white sand and black lava of the shoreline, while a carpet of scarlet sesuvium succulents serves as groundcover for a grove of luminescent green prickly-pear cactus beyond, populated by yellow-grey land iguanas.  Along the coastline one finds sea lion colonies, while sea birds play with the thermals that form along the cliffs of this small but spectacular island.  Overnight aboard the ship.  (B,L,D)
Day 4 (Fri): Santa Fe-Cerro Colorado (San Cristobal).
Santa Fe.  You take the dinghy over to this idyllic sandy-white beach populated by colonies of sea lions.  Galapagos hawks are often easily observed, perched atop salt bushes.  The Santa Fe land iguana, unique to just this island, may be spotted during the walk.  Following the walk, you can snorkel and swim along a natural wave barrier or ride the glass-bottom boat.
Cerro Colorado.  After lunch, you disembark at Puerto Baquerizo Moreno, the island's capital, and drive 40 minutes to the island's southern shore.  At Cerro Colorado, you visit the breeding center for highly endangered giant tortoises in the midst of a fantastic deciduous forest, home to dozens of bird species, including the San Cristobal mockingbird, and the San Cristobal lava lizard, both island endemics.  Overnight aboard the ship.  (B,L,D)
Day 5 (Sat): Punta Pitt-Cerro Brujo (San Cristobal).
Punta Pitt.  You land at the eastern tip of San Cristobal Island this morning.  The trail that ascends from the beach provides spectacular views of the shoreline; you can observe frigates, plus a colony of bachelor sea lions.  After the walk, if conditions are favorable, there is a chance to swim from the beach and snorkel.
Cerro Brujo.  In the afternoon following lunch on board, a dinghy ride along the shores of tuff-stone layers takes you to Cerro Brujo's expansive, white coral beach, great for walking, with rewarding bird-watching featuring seabirds and shore birds.  Also, look out for Galapagos sea lions.  These are the same shores that Charles Darwin walked upon, back in September 1835.  Overnight aboard the ship.  (B,L,D)
Day 6 (Sun): Punta Suarez-Gardner Bay (Española Island).
Punta Suarez.  Your morning outing at Punta Suárez provides an exciting walk on lava/boulder terrain to visit its unique sea bird colonies, including the waved albatrosses (April – January), boobies, swallow-tail gulls, and the famous "blowhole" lava formation.  Also, look for red-green-black marine iguanas.  Many regard this site as the best in the Galapagos.  Back on board for lunch.
Gardner Bay.  In the afternoon, you set down at this beautiful, white coral beach for a short walk to observe the sea lions, mockingbirds, finches, or enjoy the beach.  There is great snorkeling in this area, or else there's time to kayak or ride the glass-bottom boat.  Overnight aboard the ship.  (B,L,D)
Day 7 (Mon): Charles Darwin Research Station (Santa Cruz)-Baltra Airport-Quito.
Disembarking in the morning, you visit the Charles Darwin Research Station and the captive rearing program for the giant tortoises.  Here you witness the efforts and results of Galapagos fieldwork and study done in the name of science.  You transfer via bus across Santa Cruz Island for a short ferry ride to Baltra Island and the airport for your flight back to the mainland.  Baltra's flat substrate (due to its uplifted origin) is the reason why the island was chosen back in the 1940s as the construction site for an airport.  Upon arrival, you will be greeted and transferred to your hotel.  Overnight in Quito.  (B)
Day 8 (Tue): Quito-Coca-Napo Wildlife Center.
Depart from Quito for the 30 minute flight to Coca over the eastern Andes mountain range. After landing, you will be met by a representative of the lodge, and transferred by local chiva (hired bus) or taxi to Port Francisco de Orellana. There will be a two hour ride in a comfortable, covered motor boat, along the Napo river, with boxed lunch en route. Along the way, herons, kingfishers, and other birds can be spotted.
After arriving at Napo Wildlife Center's (NWC) dock you disembark for a short break, and then take a majestic and peaceful two hour dugout canoe ride surrounded by trees overhead, paddling along a narrow creek that connects to the lake where the lodge is located. There is a god possibility to see various monkey species, as well as large birds including toucans, parrots, and even macaws. Late afternoon arrival to the NWC lodge on Añangu lake, with a welcome drink. After dinner, there will be an optional cayman (alligator) observation tour around the lake, with natural sounds at night. Overnight at the lodge. (B,L,D)
Day 9 (Wed): Napo Wildlife Center-Parrot Clay Lick-Añangu Community Visit.
Early wake up to reach the best and most accessible parrot clay licks in Ecuador, about one hour away from the lodge. Guests arrive there just before parrot activity kicks off at the clay lick between 7:30 and 8:30 AM. A total of 11 species of parrots, parakeets and macaws can be seen. The visit is contingent upon on weather conditions, but is usually made.
Later, hike along forest trail to visit to the Kichwa community of Añangu and share time with a native family during their daily activities. Return to the creek and hike through a Terra Firme Forest for about 30 minutes until you arrive to the second parrot clay lick, where if the weather conditions allow, you will be able to observe more activity. Box lunch served at the parrot clay lick. Late afternoon return to the lodge. Overnight at the lodge. (B,L,D)
Day 10 (Thu): Napo Wildlife Center-Canopy Tower-Terra Firme Trail.
After an early breakfast, depart from the lodge to experience the finest canopy tower on the Napo River. This 36m high canopy tower opened to guests in November 2004, and is a great way to experience the wildlife above the forest floor. The canopy tower is located about 20 minutes from the lodge deep within the terra firme forest. As you ascend the 12-story tower, you pass through different levels of the forest and emerge on top of a huge Ceiba Tree. Here you cross onto a wooden platform that is actually built into the tree and experience the view formerly reserved only for the birds. The metal tower itself was constructed to the highest standards, galvanized, and carefully inspected by engineers. Safety is the priority. The platform at the top of the tree was constructed by tree platform specialists as well. From top to bottom, there is no finer canopy experience in Eastern Ecuador. Flocks of colorful tanagers pass right through the canopy of the tree, Blue-and Yellow Macaws fly past, in nearby trees Spider Monkeys search for fruit, two species of large toucans call in the early mornings and afternoons, and the life of the forest canopy opens before you. Birds that are virtually impossible to see from the forest floor far below are suddenly right beside you, oblivious to your presence. The canopy tower opens a whole new world to guests of the Napo Wildlife Center!!. Lunch served at the lodge.
In the afternoon, you will visit a terra firme trail and hike along primary forest to discover the forest interior. You may find lizards, colorful Manikins, or the unique and endemic Golden Mantle Tamarin Monkeys. After the hike, explore the lake and creeks by dugout canoe, with a good chance of seeing a Giant River Otter family on the way. Overnight at the lodge. (B,L,D)
Day 11 (Fri): Napo Wildlife Center-Coca-Quito.
Early departure by canoe back to the Napo River. You may be able to see Giant River Otters, Monk Saki Monkeys, or rare birds. After arriving at the entrance to the Napo Wildlife Center Reserve, we disembark for a restroom break, and switch to a covered motor boat for the two hour ride up the Napo river to the port. Transfer to the airport in Coca for your return flight to Quito. Upon arrival in Quito, you will be transferred to your hotel. Overnight in Quito. (B)
Day 12 (Sat): Quito).
Transfer to the airport for your return flight to your final destination. (B)
B = Breakfast, L = Lunch, D = Dinner
Itinerary Map
What's Included
Price Includes
South American Vacations' expert pre-departure planning services and documentation.
Quito-Coca-Quito airfare.
Airport/hotel transfers including baggage handling.
Four night accommodations at Swissotel Quito (or similar) including service fees and taxes.
Three night accommodations at the Napo Wildlife Center including service fees and taxes.
Accommodations on board the Yacht La Pinta.
Yasuni National Park entrance fee.
All meals scheduled on board and others as indicated on the itinerary.
Daily excursions to the islands conducted by English-speaking naturalist guides.
Other excursions as indicated on the itinerary including all applicable entrance fees.
Evening briefings during the cruise.
Use of kayaks and snorkeling equipment.
Price Does Not Include
International airfare.
Quito-Galapagos-Quito airfare ($508).
Galapagos National Park Entrance Fee ($100).
Transit control card ($20).
Meals not indicated on the itinerary.
Gratuities to ship crew and guides.
Bar, gifts, and personal items.
Travel insurance.
We will be happy to quote the cost of airfare and travel insurance, and to make these arrangements for you.
Accommodations
Quito & Galapagos
Amazon
Additional Details
Group Private: All services in Quito are private, except for the shuttle transfers to/from the airport on the first and last days of the cruise, and all services in the Galapagos and the Amazon are operated on a group basis.
Elevations: Quito is 9,350 feet above sea level.
IGTOA'S Galapagos Traveler Conservation Fund: South American Vacations is an active member of IGTOA (International Galapagos Tour Operators Association).  In support of IGTOA's Galapagos Traveler Conservation Fund, we contribute $20 for each passenger that we send to the Galapagos Islands.  You'll travel knowing that you support the lasting protection of Galapagos Islands.
Sixty percent of the funding of this program goes directly to the Charles Darwin Foundation for science, conservation, and education.  Their work, carried out through the Charles Darwin Research Station and Galapagos National Park, is vital to the preservation of the islands.  You can visit their web site to learn more www.darwinfoundation.org.  The remainder goes toward IGTOA's mission of creating a model of responsible and sustainable tourism.
Passport/Visa: U.S., Australian, Canadian, and EU citizens require a passport valid for at least six months from date of entry and return ticket for stays of up to 90 days. Citizens of other countries are advised to contact the Ecuadorian embassy in their country before traveling.
Travel Insurance: In order to protect your travel investment from unforeseen circumstances that may arise before or during your trip, we strongly recommend that you purchase travel insurance. We offer Allianz Global Assistance's Classic Comprehensive and other plans. The Benefits and Coverage Limits are summarized on our Travel Insurance page. Call your travel counselor if you have any questions or to purchase a plan.
To Book This Trip: Call or email us to confirm the availability of a cabin on this ship for your desired dates of travel.  The non-refundable deposits for single, double, and triple passengers are $1,900, $1,400, and $1,300 per person, plus the cost of the airfare (if we arrange it for you).
Why Book With Us?
Personalized Tours
Destination Expertise
Reliability (A+ BBB Rating)
1000's of Happy Customers
Want Help Planning Your Trip?