The Galapagos Marine Reserve is the second largest marine reserve in the world, and the largest in a developing country. Due to its protected status, many areas of the marine reserve are off-limits to snorkelers and divers. But there are plenty of sites open to visitors, where with just some basic snorkeling equipment you can swim with a wide range of aquatic species, including hammerhead sharks, rays, manta rays, sea turtles and marine iguanas, in a variety of spectacular marine habitats.
Below is our list of the best places for snorkeling in the Galapagos.
The Devil's Crown
The Devil's Crown is located just off Floreana Island. It consists of a jagged ring of rocks that jut up out of the water, giving the dive site its name. Marine life thrives in this rocky habitat, making it one of the best places for snorkeling in the Galapagos – but if you're not a strong swimmer, be careful, as the current can be strong in places. A wide array of colorful reef fish can be seen here, and you'll almost certainly see surgeonfish, parrotfish and king angelfish. If you're lucky, you might find yourself swimming alongside a hammerhead, a white-tipped reef shark or a large manta ray. Sea turtles also swim in these waters, and occasionally a playful sea lion will take a dip with the snorkelers.

Pinnacle Rock
Pinnacle Rock rises up along the coast of Bartolomé Island, its jagged spearhead shape generally considered one of the most famous landmarks in the Galapagos. It's just as impressive below the water, where sea stars, anemones and corals flourish. Also common in these waters are tropical fish and white tipped reef sharks, and snorkelers are often joined by Galapagos penguins, sea lions and sea turtles who nest along the beach just off Pinnacle Rock.

Los Tuneles
Los Tuneles is the most fascinating snorkeling site on Isabela Island, both for its wealth of marine life and the otherworldly labyrinth of underwater geological formations through which you can swim. The water here is shallow and impressively clear, making it easy to see the manta rays, sea turtles, sea horses, tropical fish, sharks and penguins that live in this spectacular ecosystem.

Kicker Rock
Kicker Rock, also known as Leon Dormido, is an ancient and eroded volcanic lava tuff cone located about three miles off the coast of San Cristóbal Island. The rock rises up about 500 feet from the ocean floor, splitting in two as it rises, and its summit and cliffs are home to many birds, including Nazca boobies, blue-footed boobies, frigatebirds and tropicbirds. Below the water, meanwhile, the channel between the two sides of the rock has created a perfect habitat for Galapagos sharks, white-tipped reef sharks, rays, reef fish, sea turtles and sea Lions. It's no wonder, then, that Kicker Rock is considered one of the best snorkeling sites in the Galapagos.

Tagus Cove
Tagus Cove on Isabela Island offers a different kind of snorkeling experience to other places mentioned here. The floor of the cove is covered with a swathe of green algae, giving it the appearance of a strange underwater pasture. And in this pasture graze sea turtles and marine iguanas, alongside rockfish, penguins and flightless cormorants. Diving about 15 feet to the floor of the cove, snorkelers can spot sea horses as they sway with the current among the dense covering of seaweed.

Punta Espinoza
Just across from Tagus Cove lies Punta Espinoza, located along the coast of Fernandina Island. Thanks to the particular currents and marine geology at Punta Espinoza, this area can provide some real highlights for snorkelers. Sea turtles and marine iguanas love to hang out in these waters, and you might see Galapagos penguins and flightless cormorants shooting through the water alongside you. The channel here is also one of the best places in the archipelago for swimming with Galapagos dolphins, and depending on the season you might get really lucky and spot orcas and humpback whales.

Punta Vicente Roca
Back on Isabela Island lies Punta Vicente Roca. Landing is not allowed here, but this section of coastline is famous for its snorkeling. Thanks to an upwelling of cold water from the Humboldt Current, these waters are blessed with an abundance of marine life, including some species not often seen elsewhere in the archipelago. Pacific green sea turtles thrive here, and snorkelers will see them everywhere: on the sea floor, resting on the surface and feeding on the shore. Marine iguanas, playful sea lions, stingrays and mantas are also common here, and lucky snorkelers might see white-tipped reef sharks or, deeper down, a passing hammerhead. Punta Vicente Roca is also one of the few places to spot the rare Port Jackson shark, a prehistoric-looking type of bullhead shark.

Isla Lobos
Isla Lobos is a tiny islet just off San Cristobal Island. It's a relatively flat island and, by Galapagos standards, not particularly jaw-dropping in terms of scenery. But there are few better places to swim with sea lions in the entire archipelago, thanks to the many sea lions that call Isla Lobos home. A protective cove offers wonderfully clear and calm waters, where snorkelers can dive among these inquisitive and playful creatures. The younger sea lions are especially playful, and seem to have quite a sense of humor. They like to swim up behind unsuspecting snorkelers before leaping over them, just to startle the visiting humans. And some like to approach you head-on, within just a few inches of your mask, before blowing out a stream of bubbles in your face.
Recommended Tours
Don't Forget to Share This Post!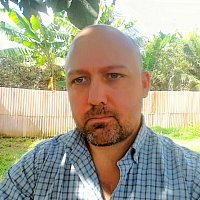 Tony Dunnell is a freelance writer based in Peru since 2009. He's the owner of New Peruvian and also writes for various magazines and websites. When he's not walking his dog in the jungle town of Tarapoto, he's off exploring other parts of Peru and South America.