The small Patagonian village of El Chaltén could well have been a forgotten frontier settlement were it not for the thousands of tourists who come here each year. Surrounded by stunning scenery and world-class trails, it's a paradise for climbers and trekkers. And in 2015, the government officially recognized El Chaltén as Argentina's Trekking Capital, further enhancing the small village's big reputation as one of the world's prime trekking destinations.
Visiting El Chaltén
El Chaltén is located in the northern part of Argentina's Los Glaciares National Park in the Santa Cruz Province of Argentina. The Cerro Torre and Cerro Fitz Roy mountains rise up just a few miles to the west, straddling the border between Argentina and Chile.
El Chaltén sits within a transition zone where the Magellanic subpolar forest meets the Patagonian steppe. It's a region of snow-capped mountain peaks, glacial lakes and forested valleys, creating a spectacular environment for trekkers and climbers.
The village itself is growing every year, but it retains a frontier feel with a relaxed and friendly atmosphere. The tourist infrastructure has also developed in the last 20 years, and now tourists can stay in cabins and apartments as well as the more traditional hostels and campsites.
You can visit El Chaltén via a full-day excursion from El Calafate, located about 75 miles to the southeast on the other side of two large glacial lakes. But that will only give you time for one half-day trek. To fully appreciate El Chaltén and make the most of its numerous trails, it's best to stay for at least two days, or more if you're a dedicated trekker.
There are flights to El Calafate from Buenos Aires. Once in El Calafate, it's a four-hour bus ride to El Chaltén. Buses leave daily between El Calafate and El Chaltén from October until May (high season), and less frequently during the low season.
The Most Popular Hikes in El Chaltén
There are plenty of trails to explore around El Chaltén, ranging from strenuous full-day treks to easy half-day hikes. Some of the most popular treks are:
Laguna de los Tres
This is the most famous trek in El Chaltén and one of the most famous in the whole of Patagonia. It takes you along the Del Salto stream, through forested areas and up to Laguna de los Tres, an otherworldly lagoon close to the base of Mount Fitz Roy. From the lagoon, the views of the mountain are stunning. The trek takes around eight or nine hours and is considered a moderate to difficult hike.
Laguna Cerro Torre
Another famous El Chaltén trek, this one leads to the base of Cerro Torre, a dramatic-looking mountain that's notoriously difficult to climb (despite various attempts, no one reached the summit until 1974). The views of the mountains from the trail are nothing short of sublime, particularly in spring when wild flowers dot the landscape. It's an easier trek than Laguna de los Tres, but still takes six to eight hours.
Pliegue Tumbado
While most treks around El Chaltén enter one of the mountain valleys, the Pliegue Tumbado trail rises up above the valleys, offering some of the best panoramic views of the area. The trail ascends for about 3,610 feet, passing through forests and then into exposed landscapes of stone and scrub, where it's possible to find marine fossils that are more than 100 million years old. From the main viewpoint near the end of the trail, at a height of 4,920 feet above sea level, you'll have a 360-degree panoramic view that includes Mount Fitz Roy, Cerro Torre and the Toro Valleys, the vast Lake Viedma, and the expansive Patagonian steppe. This trek is considered moderate to difficult and takes six to seven hours.
Chorrillo del Salto
If you're visiting El Chaltén as a day trip, then this easy 2- to 3-hour trek is a good option. The trail takes you into a forest of lenga beech and ñire trees, eventually arriving at a fairytale-like waterfall with a drop of more than 65 feet.
Laguna Capri
If the Laguna de los Tres trek sounds just a little too long, then consider taking the Laguna Capri trail. This trek begins on the same trail heading to Mount Fitz Roy, but branches off to Laguna Capri, a sparkling lake with great views of the Fitz Roy massif. The trek can be done in under four hours, but if you want to stay the night you'll find a free camp site at Laguna Capri.

Don't Forget to Share This Post!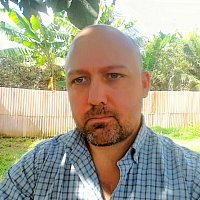 Tony Dunnell is a freelance writer based in Peru since 2009. He's the owner of New Peruvian and also writes for various magazines and websites. When he's not walking his dog in the jungle town of Tarapoto, he's off exploring other parts of Peru and South America.