Buenos Aires is divided into 48 neighborhoods, or barrios, each with its own distinct characteristics. So when you're trying to decide where to stay in the Argentine capital, picking one of these barrios can be a little tricky. To help you choose, here's a guide to some of the best neighborhoods in Buenos Aires and what they have to offer.
Palermo
Palermo is the largest and greenest neighborhood in Buenos Aires, with swathes of parks, wooded areas and lakes. As such, it's one of the most peaceful places to stay in the capital. But Palermo is far from dull, and sections of the barrio, most notably Palermo Hollywood and Palermo Soho, are some of the hippest places to hang out in the city. Palermo Soho is famous for its café culture, restaurants and boutique hotels, while Hollywood is a nightlife hotspot with many of the best restaurants, bars and clubs in the city. If you like to stroll and relax during the day before hitting some chic bars and nightclubs after dark, Palermo is a great option. On the downside, the more popular parts of the barrio are expensive, it's located on the fringe of all the other popular neighborhoods, and subway access isn't great.
Recoleta
Recoleta is a swanky, Parisian-style neighborhood with many of the city's most upscale hotels and stores. It's a beautiful place to stay, with plenty of history and culture, including attractions like Recoleta Cemetery (where you'll find the grave of Evita), the Museo Nacional de Bellas Artes and the Museo de Arte Latinoamericano. It's an expensive neighborhood, however, and subway access is poor.
San Telmo
If you're looking for the authentic Buenos Aires experience, San Telmo is one of the best places to stay. The colonial grandeur of this old neighborhood is slightly frayed around the ages, but in a good way. Its cobblestone streets are lined with antique shops, traditional bars and restaurants, and tango dancers weave their way around the outskirts of the huge street market. San Telmo is rapidly becoming gentrified, but retains its old-school charm. It's safer than in the past, but you still need to be a little cautious at night.
Belgrano
Belgrano is a modern mix of residential and commercial areas. Not typically considered a tourist hangout, it is nonetheless a very safe and tranquil place to stay, and a great area for strolling around. You'll also find the city's Barrio Chino (Chinatown) in Belgrano, home to many of the capital's best sushi restaurants.
La Boca
La Boca more than warrants a mention, although not necessarily as a place to stay. History, tango and soccer all mix in this lively neighborhood, home to La Bombonera, the iconic stadium of Boca Juniors. One of the city's most famous streets, El Caminito, runs through La Boca. Here you'll find hordes of artists, buskers and tango dancers. La Boca isn't particularly safe, especially at night, so most tourists choose to visit the barrio during the day rather than stay there.
Puerto Madero
This waterfront neighborhood is the most modern barrio in Buenos Aires, its old warehouses turned into upscale apartments, trendy lofts and expensive offices. It might be too exclusive for some tastes, and doesn't really capture what traditional Buenos Aires is all about. But for modern architecture, an international vibe and luxurious restaurants (along with the likes of TGI Friday's and Hooters), it's a great spot. It's also a good neighborhood for jogging and riding along the riverfront strip. Be aware, however, that Puerto Madero is very expensive.
Recommended Tours
Don't Forget to Share This Post!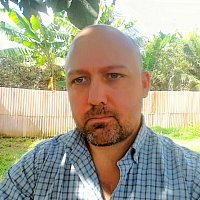 Tony Dunnell is a freelance writer based in Peru since 2009. He's the owner of New Peruvian and also writes for various magazines and websites. When he's not walking his dog in the jungle town of Tarapoto, he's off exploring other parts of Peru and South America.