Surrounded by volcanic cones and some of the world's deepest canyons, the city of Arequipa is a must-see destination in southern Peru. With some 860,000 inhabitants, it's the second largest city in Peru, but far less chaotic than Lima, which is ten times the size.
Arequipa is also one of the prettiest big cities in Peru. Many of its old colonial buildings were built from local sillar, a white volcanic rock that has given Arequipa its distinctive look and its nickname: La Ciudad Blanca, or The White City.
The arequipeños, or residents of Arequipa, are a proud people. Some are so fiercely proud of their city and its namesake region that they want to create an independent Republic of Arequipa, splitting from Peru entirely. And while that's never likely to happen, the people of Arequipa have plenty of reasons to be proud of their city, its culture, and its wealth of sights and attractions.
1. Plaza de Armas
With its palm trees, colonial buildings and kissing couples, Arequipa's expansive Plaza de Armas is one of the most impressive main squares in the country. It's a fine place to sit and people-watch while eating a traditional queso helado. And as you look around you'll see some of the oldest and most important buildings in the city, including the massive Basilica Cathedral of Arequipa and the smaller Iglesia de La Compañía, whose intricately carved façade is a masterpiece of religious architecture.
2. Monasterio de Santa Catalina
The Monasterio de Santa Catalina was founded in the mid-1500s as a monastery for nuns of the Dominican Second Order. At its height, around 450 people — nuns and their servants — lived inside the cloistered community. Spread over an entire city block, the monastery is like a little village tucked inside the city. Most of the monastery is now open to the public, apart from the areas still occupied by the nuns. It's easy to spend an hour or more exploring Santa Catalina, wandering through the colorful alleyways painted in vibrant reds and blues, seeing the sparse quarters where the nuns once slept, and the comparatively lavish assembly and prayer rooms. Make sure your camera is well charged, because photo opportunities abound.
3. Museo Santuarios Andinos
The Museo Santuarios Andinos is home to one of Arequipa's most iconic figures: Juanita, also known as the Lady of Ampato or the Inca Ice Maiden. Juanita was a 12-year-old Inca girl sacrificed to the gods in the 1450s and found atop Mount Ampato in 1995. Today she is kept in a refrigerated glass case, a fascinating but somewhat macabre sight thanks to her unsettlingly well-preserved state. Guides lead visitors through the atmospheric museum, explaining the significance of various artifacts found during the Juanita expedition before finally arriving in the room where Juanita is kept.
4. Yanahuara
Just to the northwest of the city center lies the Yanahuara District, famous for its old sillar buildings, charming alleyways and colonial churches. Here you'll also find a popular mirador, or viewing point, which offers great views across Arequipa and the volcanic peaks beyond it. Yanahuara is also home to some of the city's most authentic traditional restaurants, where you can dig in to local classics like chupe de camarones (a type of shrimp chowder) and rocoto relleno, a spicy stuffed pepper.
5. Mercado San Camilo
San Camilo Market is the largest market in the center of Arequipa, located just a short walk southeast of the Plaza de Armas. It's an authentic Peruvian market experience, selling plenty of fresh produce from across the region. It can be a heady and pungent place to explore, especially if the sight of cow heads and innards makes you queasy, but it's packed with interesting meats, cheeses, fruits and more, and is a great place to watch traditional market life unfold before you.
6. Colca Canyon
Colca Canyon is the most famous and popular one- or two-day excursion from Arequipa. Twice as deep as the Grand Canyon, it ranks among the deepest canyons in the world. Not only is it a spectacular sight, the canyon is also home to Andean condors. Some people choose to visit Colca as a daytrip from Arequipa, heading to viewing points where the condors can be seen up-close as they swoop by the canyon walls. But if you have two or three days to spare, it's worth arranging a trek with one of the many tour operators in the city. You can hike down into the canyon and spend the night at one of the small communities on the canyon floor, taking in the stunning scenery as you go.
7. El Misti
El Misti is a symmetrical stratovolcano that rises up about 11 miles to the northeast of Arequipa. You can see it from various parts of the city, snow-capped depending on the season, a beautiful sight but slightly disconcerting considering that the last eruption took place in 1985. If you're feeling adventurous and are in good physical shape, it is possible to climb up El Misti. But the dusty slopes and the high altitude make it quite a challenge, and it normally takes two days to make it to the top.
Recommended Tours
Don't Forget to Share This Post!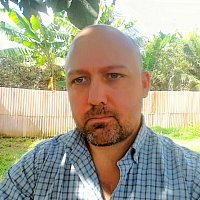 Tony Dunnell is a freelance writer based in Peru since 2009. He's the owner of New Peruvian and also writes for various magazines and websites. When he's not walking his dog in the jungle town of Tarapoto, he's off exploring other parts of Peru and South America.