The Pantanal is the largest — and one of the most pristine — tropical wetlands in the world. Covering an area of more than 42 million acres (that's larger than England), it is home to a vast array of wildlife, including more than 236 mammalian species. And unlike the densely vegetated Amazon Rainforest, the Pantanal is an open habitat, making it the best place for spotting wildlife in South America.
Below is our list of 8 Mammals that you are likely to see when you visit the Pantanal.
Jaguar
Jaguars are the third-largest cats in the world after tigers and lions, and they are notoriously hard to spot in the wild. But in the Pantanal, your chances of seeing at least one of these beautiful felines are very high indeed. With abundant prey and water, jaguars are perfectly at home in the Pantanal, which has become a critical habitat for these near-threatened cats. You might see one lounging around during the day, stalking its prey at night, or even making its way across the water (jaguars are very capable swimmers).
Maned Wolf
The maned wolf is a peculiar sight. Standing at about three feet tall, it has big ears, markings that resemble a fox, and long, thin legs (for this reason it is sometimes known as the "fox-on-stilts"). But it is neither a wolf nor a fox: it is the only species in the genus Chrysocyon (which means "golden dog"). Maned wolves are omnivorous. When not hunting for small prey such as birds, rodents and rabbits, they will happily eat fruit, sugarcane and tubers, which may account for as much as 50% of their diet. If you smell something pungent while in the Pantanal, it might be maned wolf urine. They mark their territory and communicate among themselves with their strong-smelling urine, hence their other nickname: "skunk foxes."
Howler Monkey
Black howler monkeys, as their name suggests, are among the Pantanal's noisiest inhabitants. Around sunrise they begin their roaring howl, which serves to announce their location to avoid conflict with other groups. You can hear these roars from as far as three miles away; up close it's a truly impressive chorus. But despite all their morning raucousness, black howler monkeys rank among the laziest monkeys in the New World. They spend most of their time up in the trees, typically sleeping or resting for 70% of the day.
Capybara
Weighing a hefty 75 to 150 pounds, the capybara is the largest rodent in the world. These barrel-chested rodents have reddish hair and proud faces, with expressions that tend to look either serenely calm or mildly irritated. They are perfectly suited for life in the Pantanal, being semiaquatic and spending much of their time in the water. Their slightly webbed feet help them to swim, and they can hold their breath underwater for as much as five minutes, a particularly useful ability when hiding from predators such as the jaguar.
Giant Anteater
Seeing a giant anteater in the wild is an unforgettable experience, in part because they are such strange-looking creatures. These insectivorous mammals have bushy tails, long fore claws and elongated snouts, a combination that is both endearing and slightly comical. They feed on ants and termites, using their fore claws to dig them up before using their long and sticky tongues to collect them. In the Pantanal, giant anteaters are mostly nocturnal. They tend to be most active during the night and early morning, preferring to rest as the day grows warmer. If you're lucky, you might also see a southern tamandua, another Pantanal anteater that may have diverged from its larger cousin millions of years ago.
Giant River Otter
The giant river otter lives primarily along the Amazon River and in the Pantanal, two vital habitats for this sadly endangered animal. The global population is well under 10,000, with between 2,000 and 5,000 individuals living in the Brazilian Pantanal. Giant river otters are highly sociable creatures, and are arguably the most entertaining mammals to watch in the Pantanal. They are often found in a flurry of activity, switching between catching and eating fish, grooming each other, and playing among their social group. Despite their tragically low numbers, giant river otters are relatively easy to see in the Pantanal.
Tapir
The tapir is South America's heaviest land mammal, but its size doesn't necessarily make it easy to find. But with the right guide, you should be able to spot one of these strange creatures. Tapirs look a little like big pigs, but their highly flexible and elongated snouts, which they use to reach for foliage, set them apart. Tread quietly and you should be able to observe tapirs in close proximity as they have terrible eyesight. But like many mammals in the Pantanal, they are good swimmers. They spend a lot of their time in or under the water, either hiding from predators or walking along the riverbed to feed on aquatic vegetation.
Marsh Deer
Marsh deer are among the rarest animals to inhabit the Pantanal, and are currently classified as vulnerable. But your chances of seeing these deer are good, especially in the marshes of Mato Grosso. Standing at around four-feet-tall at the shoulder, marsh deer are the largest deer found in South America. They also have unusually large ears. You'll often seen birds perched on the backs of marsh deer, with the skittish and observant deer offering an extra set of eyes in case of predators.
Recommended Tour
Don't Forget to Share This Post!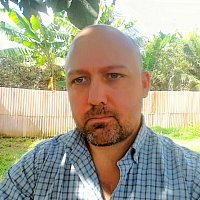 Tony Dunnell is a freelance writer based in Peru since 2009. He's the owner of New Peruvian and also writes for various magazines and websites. When he's not walking his dog in the jungle town of Tarapoto, he's off exploring other parts of Peru and South America.