Old and new: in Peru, as in no other country in South America, these two principles are in dynamic, creative tension. Everywhere you go, the interplay is there, from the Inca stonework housing Cuzco's boutique hotels to the trendy Lima gastro-outlets that look out on 1,500-year-old pre-Columbian pyramids.
Admittedly, it's the "old" aspect that's the hook for most visitors. And no wonder: with Inca ruins as spectacular as the mountaintop citadel of Machu Picchu, or the palaces and fortresses in and around Cuzco, it's impossible not to be mesmerized by Peru's pre-Hispanic past.
But ancient Peru is more than just Incas. From the heights of the Andes to the bone-dry deserts of the coast, the country boasts an archaeological legacy stretching back 5,000 years. Witness, for example, the adobe city of Chan Chan in the north, with its wavelike parapets and echoing tombs. Or the otherworldly Nazca lines in the south, one of archaeology's greatest enigmas. On blustery Lake Titicaca, a local tribe preserves its millennial custom of weaving whole islands out of lake-grown reeds. In Caral, just north of Lima, winds whip through the crumbling pyramids where civilization in the Americas first arose.
Meanwhile, not far from the ruins, modern Peru has learned to dazzle. In cities like Lima and Arequipa, a gastronomic explosion has made the country the hemisphere's top foodie hotspot, spawning a horde of culinary tours and festivals. For those geared towards more cultural pleasures, there's also a pulsing artistic scene, running from galleries to danzas folklóricas to raucous shows of Afro-Peruvian música criolla.
In the end, though, what's best about Peru might lie outside civilization altogether. With a diverse geography encompassing all the climatic zones on the planet, the country affords inexhaustible riches for nature lovers. Soaring mountain crags, gorges twice the depth of the Grand Canyon, teeming flora and fauna in the Amazon: in its sheer abundance, Peru is a place where miracles are part of everyday life.
Here is our take on the best places to visit in Peru.
The Andes' most famous ruin, rediscovered by Hiram Bingham in 1911, needs no introduction. No matter how many Instagram snapshots you've seen, they can't come close to the mystic stonework and sublime geometry of the real thing. Read more about Machu Picchu.
The Incas' legendary capital is a place of enchantment. Sun temples and colossal native fortresses fuse with baroque Spanish cathedrals in a city where two worlds collide. Read more about Cusco
The Urubamba Valley was the Incas' heartland, and when you travel through by bus or luxury train, you'll see why. The ceremonial complexes here, including those at Ollantaytambo and Pisac, are among the most awe-inspiring the Americas have ever produced.
Peru's kinetic capital positively hums with energy. From the colonial monuments of its plaza de armas to the posh eateries of Miraflores and Barranco, the city electrifies via its architecture, food, and nightlife.
The world's highest navigable lake is also a living repository of indigenous cultures. Its people, inhabiting postcard-perfect islands like the Uros, Taquile, and Antamani, are the guardians of a heritage that dates back to before the Incas.
Looking to go off the grid? Peru's southern rainforest is the place to do it. Remote and largely untouched by civilization, it's the site of two of the continent's most pristine parks for wildlife watching, as well as countless exotic flora and fauna.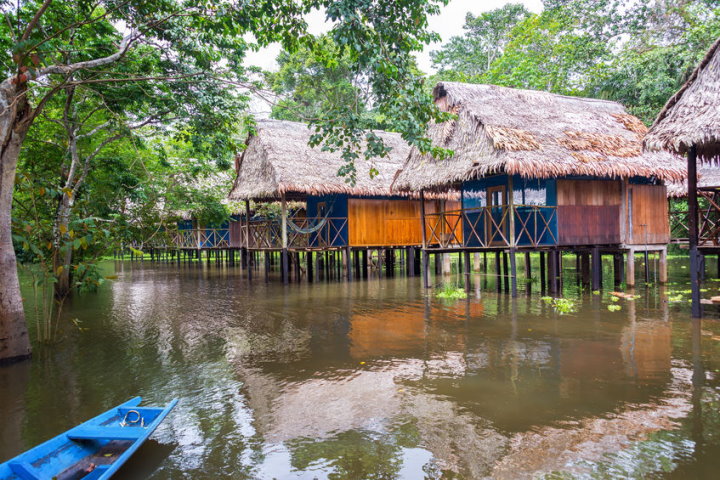 For those wanting to stay at a jungle lodge or take an Amazon cruise, Iquitos, one of Peru's oddest cities, is your point of departure. Floating markets, stilt-raised huts, and iron architecture by Gustav Eiffel give this frontier town a personality unlike any other.
Peru's "white city" is considered by many to be its most beautiful—and to have its best food. A short early-morning jaunt takes you to see Colca Canyon, with its Inca terraces and famous "Condor Crossing."
Archaeologists and pilots continue to discover new geoglyphs at Nazca, ground zero for one of Peru's most mysterious civilizations. Meanwhile, further up the coast, Ica's bodegas allow wine lovers to sample Peruvian vintages and piscos at bargain prices.
Located just 100 miles south of Lima, this coastal resort offers luxury hotels and outings in high-speed launches. Sea lions, Humboldt penguins, and dolphins serve as the welcome committee.
Peru's north coast was home to two great pre-Inca civilizations, the Moche and Chimú. When you visit, you'll find a legacy of adobe pyramids, silverwork, and grisly human sacrifice.
Visit the Best Places in Peru
Travel to Peru with South American Vacations to experience the best places to visit in this fascinating country. South American Vacations offers personalized small group or private tours to all parts of Peru.
Have Questions? Call 1-888-268-9753 to Speak to An Expert.