If you conjure up a mental image of Rio de Janeiro, even if you've never been there before, it's almost certain that a beach will appear in that image.
Brazil's most iconic city is home to two of the most famous beaches in the world: Ipanema and Copacabana, both of which have inspired internationally-acclaimed hit songs. There's the catchy "The Girl from Ipanema," performed by various artists including João Gilberto, Astrud Gilberto and Stan Getz. And then there's Barry Manilow's "Copacabana," a song concept that came to Manilow while he stayed at Rio's Copacabana Hotel.
Beyond Copacabana and Ipanema lie many more beaches in Rio de Janeiro and the wider Rio de Janeiro State. You'll find everything from trendy hotspots to relaxed surf spots, all bathed in the bright sunlight of Brazil's Atlantic coast.
Ipanema Beach
If you want to hang out with Brazil's most beautiful people, take a stroll along the upscale Ipanema Beach. This trendy stretch of white sand has good views of Morro Dois Irmãos (Two Brothers Mountain). Also on display are some of the world's smallest bikinis. Rent a beach chair and umbrella, kick back with an ice-cold beer, and enjoy the vibe at one of the world's most famous beaches.
Copacabana Beach
While Ipanema Beach is the place to see and be seen, Copacabana is the beach to go to when you want to join in and have fun. Copacabana is less trendy than Ipanema and more of a hangout for regular locals. All along the crowded stretch of beach you'll see people playing soccer and volleyball, relaxing in the sun, and sipping cold drinks bought from the numerous kiosks that fuel the thirsty crowds. Don't be surprised if a few spontaneous parties break out as the day progresses.
Barra da Tijuca Beach
Stretching for 11 miles, Barra da Tijuca Beach is the longest in Rio de Janeiro. It attracts a mixed crowd along its course, from relaxing families to water sports enthusiasts, the latter including surfers, windsurfers, kitesurfers and body boarders. You can take surf lessons and hire equipment at various locations along the beach. Certain spots are frequented by fishing enthusiasts. Barra also has a reputation for attracting Brazilian soccer stars.
Prainha Beach
If you'd rather see beautiful natural landscapes rather than well-oiled bodies in tiny bikinis, then head out to Prainha Beach. Located about 50 minutes from the city center, Prainha is an unpretentious stretch of sand with an impressive backdrop of jungle-coated mountains. Good waves make this a popular surfing destination. Swimmers need to stay close to shore, however, as there are few, if any, lifeguards and a nasty undertow that can easily carry the unaware out to sea.
Leblon Beach
Despite being adjacent to trendy Ipanema, the Praia do Leblon attracts a sporty crowd rather than just a procession of bikini-clad posers. Leblon is typically packed with people playing volleyball and beach soccer, as well as surfers. It's also one of the most family-friendly of the central beaches. If you're traveling with young children, head to Baixo Bebê, a spot on the beach with kid-friendly sports and activities.
Joatinga Beach
This small but perfectly formed crescent beach has just about the cleanest water in Rio de Janeiro. It attracts surfers and nature lovers, as well as people who just want to get away from the city's more hectic beaches. It rarely gets completely packed, and during the week you might be surprised at how few people make it out to Joatinga, leaving you to relax, swim and surf in beautiful natural surroundings.
Beaches in Rio de Janeiro State
If you want to head further afield and get away from the city, you'll find plenty of amazing beaches in Rio de Janeiro State. Head three hours down the coast and hop on a ferry to Ilha Grande, a relatively undeveloped island getaway with stunning beaches and trekking trails. At the other end of the spectrum is Búzios, a chic resort town known as the St. Tropez of Brazil. Búzios is a two-hour drive east of Rio.
Out near Búzios is Cabo Frio. It's nowhere near as fancy as its neighbor, but much cheaper and great for snorkeling, diving, surfing and exquisite seafood. For a hip but chilled-out beach hideaway, head three hours west of Rio de Janeiro to Paraty, a charming colonial town that's also a UNESCO World Heritage Site. Here you'll find plenty of tranquil beaches with jungle backdrops.
Recommended Tours
Don't Forget to Share This Post!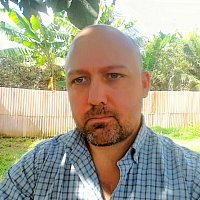 Tony Dunnell is a freelance writer based in Peru since 2009. He's the owner of New Peruvian and also writes for various magazines and websites. When he's not walking his dog in the jungle town of Tarapoto, he's off exploring other parts of Peru and South America.